mutton sukka fry is a chettinad style mutton recipe quickly made by using fresh lamb and stir frying in spices after boiling the mutton.
There are many popular south indian mutton recipes which are basically stir fried but mutton fry and mutton sukka are popular recipes among various lamb dishes.
Check out many other indian mutton recipes on the blog which are easy, simple, tried and tested recipes such as mutton chops, ambur biryani, mutton pickle, mutton rogan josh, mutton kulambu, keema recipe, mutton biryani, paya soup, mutton curry , mutton liver etc..
How to make mutton sukka:
The procedure to make the mutton sukka fry is quite simple and the lamb that is chosen to use for the sukka has to be fresh.
The mutton or lamb is pressure cooked until the mutton gets tenderized well and the mutton that is pressure cooked should only be cooked 90% as the rest is cooked while stir frying the mutton in onions.
Once the mutton is tenderized the boiled mutton is stir fried in onions and spices until the onions get a dry gravy texture.
The spices that go into making this mutton recipe are ginger garlic paste, dry spices such as salt, chili powder, coriander powder, cumin powder etc…
To get this texture, the mutton sukka is first cooked by covering the lid so that the onions inside become soft and then the mutton is roasted well by removing the lid.
This way of cooking gives the desired look and flavor to the dish.
There are many ways mutton recipes down south are made and in chettinad cuisine this is one of the ways mutton is cooked which is a great side dish to main course recipes.
Whether to use mutton with bones or boneless?
The mutton or lamb that is used has to be fresh but there is no mandatory rule to use only boneless lamb.
It can be made using mutton with bones or boneless lamb and both taste equally good.
The mutton if boiled and roasted gives a juice flavor to the mutton if cooked in the gravy and the gravy if cooked uncovered for a long time gives a dry look to the curry.
Choose fresh meat to make any of the mutton recipes as fresh meat tenderizes quickly and tastes good in flavor too.
Serving options for this recipe:
This recipe tastes good if served as a side dish gravy to roti, chapati or any flat bread or can be served as one of the side dishes to different meals.
It tastes good with rice as well and the rice should be steamed hot rice to taste good with this curry.
One can even make pulao or simple flavored rice recipes as accompaniments to this dish.
The mutton dish made here is one of the simplest recipes but tastes amazingly yum as this is from my personal experience and is a tried and tested recipe.
Below are the details to make the recipe in a step by step manner and also check out the video as soon as I update with a video below in few days.
Mutton sukka chettinad style or mutton chukka :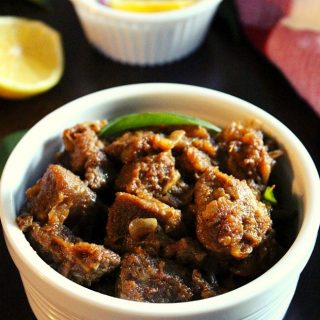 mutton sukka or chettinad style mutton chukka
boiled mutton stir fried in spices and onions.
Servings: 2
Calories: 400kcal
Author: yummy indian kitchen
Ingredients
To pressure cook mutton:
350

gms

mutton/lamb

(cleaned and washed well)

salt to taste

1/2

tsp

turmeric powder/haldi

1/2

tsp

red chili powder

1/4

tsp

ginger garlic paste

1

cup

water

1

tbsp

oil
To stir fry the mutton:
2

tbsp

oil

2

medium sized onions, sliced

3

slit green chilies

5

fresh curry leaves

1

tsp

ginger garlic paste

salt as per taste

1/2

tsp

coriander powder

1/4

tsp

cumin powder

1/4

tsp

black pepper powder

1/2

tsp

garam masala powder
Instructions
Pressure cooking mutton:
Take a pressure cooker, add the mutton pieces into the cooker.

Add salt as per taste, turmeric powder, red chili powder, ginger garlic paste.

Add a cup of water, stir well and pressure cook the mutton until it is 90% cooked or tenderized.

Switch off the flame.

Reduce the steam.
Stir frying the mutton:
Take a pan or a wok, add oil and heat it.

Add sliced onions into it and saute for few minutes until they turn soft.

Add the green chilies, curry leaves and saute few seconds.

Add ginger garlic paste and saute to get rid of raw smell.

Add the pressure cooked mutton into it , add salt as per taste, mix and cover the lid.

Cook the mutton until the onions turn into a gravy.

Remove the lid and add coriander powder, cumin powder, black pepper powder.

Add garam masala powder, mix well.

Cook the mutton until the water gets absorbed and a good roasted gravy like texture is formed.

Keep stirring in between.

Lastly, roast the mutton for few minutes by stirring on low flame.

Switch off the flame.

Sprinkle lemon extract all over the mutton.

Serve hot.
Nutrition
Calories: 400kcal | Carbohydrates: 1g | Protein: 1g | Fat: 21g | Saturated Fat: 2g | Sodium: 18mg | Fiber: 1g | Sugar: 1g | Vitamin A: 200IU | Iron: 1mg
Want To Watch Video Recipes?
SUBSCRIBE US ON YOUTUBE!